What is Open Access?
Open access is a term used to describe alternative forms of academic publishing that are "open", as well as a term used to describe the movement advancing such forms of publishing. Open access publishing is where content is:
Available online
Free to access
Has minimal or no usage restrictions
Types of Open Access
While there are many different forms of OA publishing, the two that are most commonly used and referred to are green and gold OA. Gold OA is when an article is made freely available online, immediately, in an academic journal. Green OA is when a version of an article (such as a preprint) is made available in a repository (like the UA Campus Repository), often after an embargo period following its publication in a paywalled journal. Note that while some Gold OA publications require an author processing charge (in which the author pays a fee to offset the cost of publishing the article), many OA journals do not require an APC.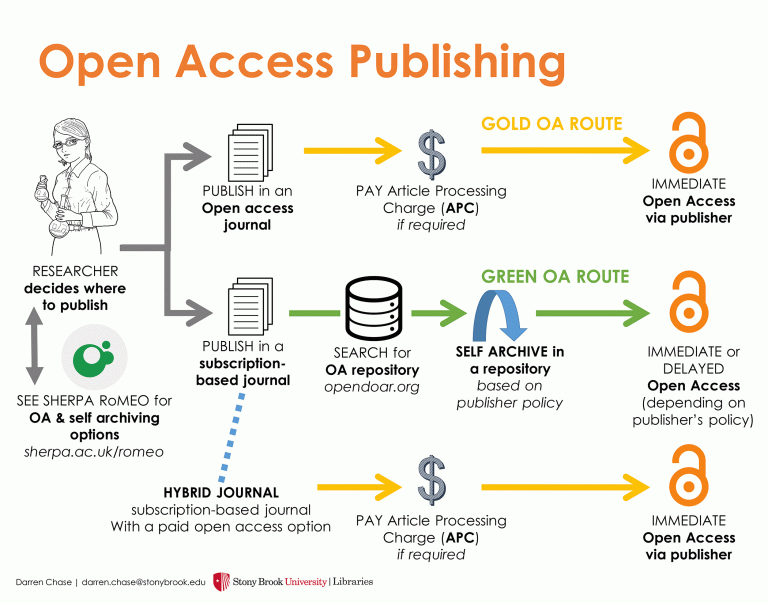 Benefits of Open Access
Open access publishing has many benefits, for authors, researchers, and society. Some of these include:
Increased research exposure (especially for students and early career researchers)
OA articles have higher citation rates, on average, than non-OA articles
Accelerated pace of research discoveries
More public interaction with research
Research has more value for and support from taxpayers
Myths About Open Access
Myth: OA publishers have lower quality than traditional publishers.
Research has found that OA journals have comparable methodological and reporting standards as non-OA journals (Pastorino et al 2016). In fact many traditional, prestigious journals now have open access publishing options.
Myth: All OA publishers charge author processing fees.
While some publishers charge steep APC fees, 71% of OA journals do not charge an author processing charge (Crawford 2016).
Myth: OA journals have poor impact factors.
In reality, the IFs of OA journals are steadily approaching the IFs of subscription journals (Bjork and Solomon 2012).