Skip to main content
It looks like you're using Internet Explorer 11 or older. This website works best with modern browsers such as the latest versions of Chrome, Firefox, Safari, and Edge. If you continue with this browser, you may see unexpected results.
Health Sciences Librarian UACOM-Phoenix
Naomi Bishop
Open Access Basics
What Is Open Access?
Open Access is a publishing model that enables the free online availability of journal articles and scholarship, permitting any user to read, download, copy, distribute, print, search, or link to the full texts of these works, crawl them for indexing, pass them as data to software, or use them for any other lawful, noncommercial purpose, without financial, legal, or technical barriers other than those inseparable from gaining access to the internet itself.
Benefits of Open Access:
Greater exposure for your work, including in developing countries
Higher citation rates
Practitioners can apply your finders
Your research can more easily influence policy
The public can access your findings
Compliant with grant rules
Taxpayers get value for their money
Green v. Gold OA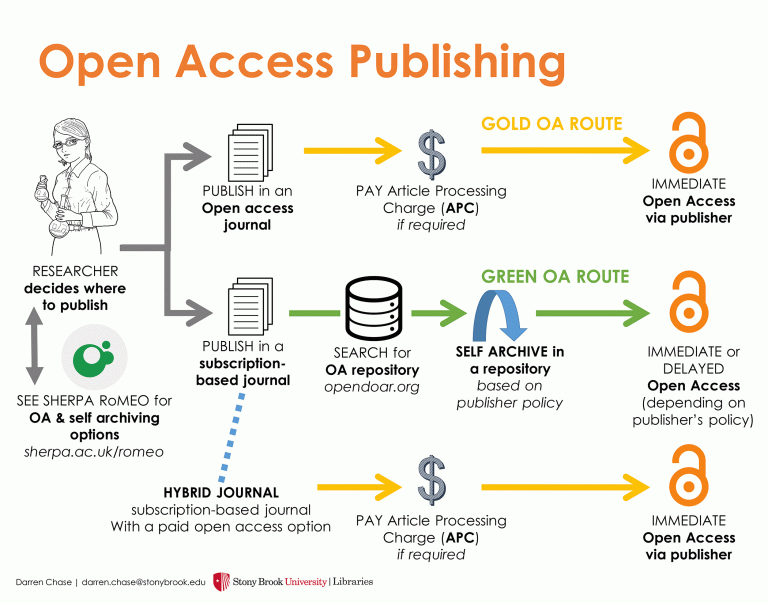 Resources for Further Information
Open Access Explained (YouTube)

Video overview of the reasons behind and benefits of the OA movement.

Open Access Factsheet

Open Access factsheet provided by the Scholarly Publishing and Academic Resources Coalition (SPARC).

DOAJ Best Practice Guide

The DOAJ Best Practice Guide is a web resource that provides selection criteria for the identification of reputable open access journals to support researchers, publishers and librarians in their search of best practice and transparency standards.
The foundations of Open Access were delineated by:
Books on Open Access
Understanding Open Access

by

Authors Alliance; Lexi Rubow; Rachel Shen; Brianna Schofield

Understanding Open Access provides a scholarly author-oriented look at the ins and outs of open access publishing. The guide addresses common concerns about what "open access" means, how institutional open access requirements work, and why authors might consider making their work openly accessible online. Our aim is to provide real-life strategies and tools that authors can use to work with publishers, institutions, and funders to make their works available on the terms most consistent with their dissemination goals. Like all Authors Alliance materials and guides, Understanding Open Access is available on an open access basis and can be downloaded for free from authorsalliance.org/oa.

ISBN: 0692587241

Publication Date: 2015-11-23

Knowledge Unbound

by

Peter Suber; Robert Darnton

Influential writings make the case for open access to research, explore its implications, and document the early struggles and successes of the open access movement. Peter Suber has been a leading advocate for open access since 2001 and has worked full time on issues of open access since 2003. As a professor of philosophy during the early days of the internet, he realized its power and potential as a medium for scholarship. As he writes now, "it was like an asteroid crash, fundamentally changing the environment, challenging dinosaurs to adapt, and challenging all of us to figure out whether we were dinosaurs." When Suber began putting his writings and course materials online for anyone to use for any purpose, he soon experienced the benefits of that wider exposure. In 2001, he started a newsletter--the Free Online Scholarship Newsletter, which later became the SPARC Open Access Newsletter--in which he explored the implications of open access for research and scholarship. This book offers a selection of some of Suber's most significant and influential writings on open access from 2002 to 2010. In these texts, Suber makes the case for open access to research; answers common questions, objections, and misunderstandings; analyzes policy issues; and documents the growth and evolution of open access during its most critical early decade.

ISBN: 9780262029902

Publication Date: 2016-03-25

Open Access

by

Peter Suber

A concise introduction to the basics of open access, describing what it is (and isn't) and showing that it is easy, fast, inexpensive, legal, and beneficial. The Internet lets us share perfect copies of our work with a worldwide audience at virtually no cost. We take advantage of this revolutionary opportunity when we make our work "open access": digital, online, free of charge, and free of most copyright and licensing restrictions. Open access is made possible by the Internet and copyright-holder consent, and many authors, musicians, filmmakers, and other creators who depend on royalties are understandably unwilling to give their consent. But for 350 years, scholars have written peer-reviewed journal articles for impact, not for money, and are free to consent to open access without losing revenue. In this concise introduction, Peter Suber tells us what open access is and isn't, how it benefits authors and readers of research, how we pay for it, how it avoids copyright problems, how it has moved from the periphery to the mainstream, and what its future may hold. Distilling a decade of Suber's influential writing and thinking about open access, this is the indispensable book on the subject for researchers, librarians, administrators, funders, publishers, and policy makers.

ISBN: 9780262517638

Publication Date: 2012-07-20